My ears always perk up when I learn that someone in the public eye is half Latino. I'm the mom of two half Latino kiddos who most assume are white based on skin tint. So I love to discover others rockin' a similar multicultural background.
Here are a few that surprised me:
James Roday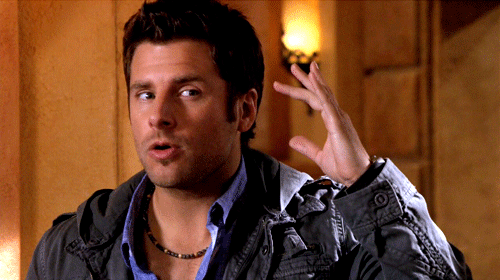 We are big Psych fans, and I was intrigued to learn that the lead, James Roday, is half Mexican. "My father is Jaime Rodriguez from San Antonio, Texas, and I've got one whole half of my family that's Mexican through and through,"
he says
.
Roday changed his last name because another actor in the Screen Actor's Guild had the same name. He joins our
white Latino discussion
, saying, "They just think I'm a white dude. Every once in a while someone thinks I'm Jewish. I get a lot of stuff, but never Latino."
Sarah Ramos
I recently found myself Googling "What happened to Haddie Braverman on Parenthood?" and learned more about actress
Sarah Ramos
. She is of Spanish, Jewish, and Filipino decent.
Alexis Bledel
Gilmore Girls is on Netflix! (Raise the roof, my friends!) So get this -
Rory
's first language is Spanish!
She was born in Houston, and her father is Argentine. Her mother was born in Arizona, but raised in Mexico. Bledel learned English during school, and then I suppose she learned to speak it like a speedster on the GG set.
Vanna White
Who knew
Vanna
's dad was Puerto Rican??? She was born with the last name Rosich, but eventually took her step-father's name, White.
Can I get an ñ, Vanna?
Aubrey Plaza
Turns out deadpan April on Parks and Rec
actually is
half-Puerto Rican as well. She
says
, "I was like the only diverse kid in my high school, and I'm half-Puerto Rican. But yeah, I have a huge family and tons of cousins in Puerto Rico."
Jessica Alba
Alba
was born in California. Her father is Mexican, and her mother is of Danish and French Canadian decent. Remember that movie Honey? Classic. I just love it.
Nicole Richie
There is possibly no better way to complete this list than
Nicole
. She was born with the last name Escovedo and has Afro-Mexican, Creole, and Spanish ancestry. She was later adopted by Lionel Richie and changed her last name.
So there you go! Seven celebrities you may not have known are half Latino. Who surprised you? Who did you already know? Who should be added to the list?